Local non-profit Groundwork San Diego-Chollas Creek strives to improve the environment, economy and quality of life in Southeast San Diego. In support of this mission, Groundwork hosted its first Cycle Southcrest event, promoting the Chollas Creek to Bayshore Bikeway Trail Project. The project is a proposed bicycle/pedestrian trail that will connect Southeast San Diego neighborhoods to the Bayshore Bikeway in San Diego.
Groundwork selected us (WordPop Public Relations) to manage the media and community relations for Cycle Southcrest, which took place on June 7. The result was a well-attended inaugural event, with media coverage from television stations NBC 7, CBS 8, and KUSI, and publications Times of San Diego, Bike SD, and many others. We also developed messaging for community partners like Supervisor Greg Cox, San Diego Unified School District, UC San Diego and many others.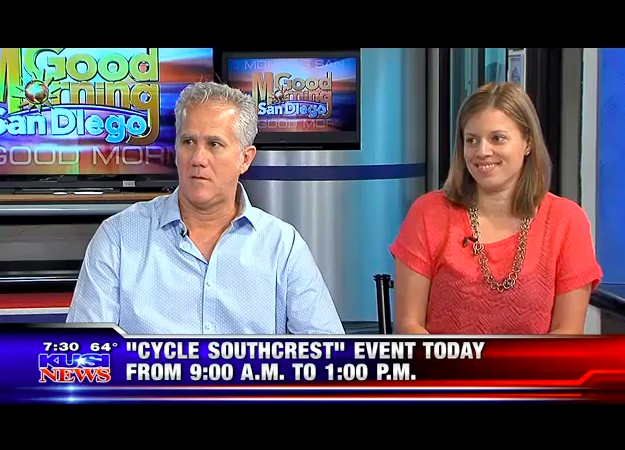 Our goal was to both promote the event to drive attendance, and to engage the media. Leading up to the event, we created a 10-day photo countdown via Facebook and Instagram, keeping everyone updated and excited! We got BMX pro/Ikonix founder Bob Haro on board, and he joined WordPop founder April Enriquez on KUSI's Good Morning San Diego to promote the event. We even teamed up with a designer to create a brand new brochure for Groundwork, and with a website developer to organize and rearrange Groundwork's website.
To support the event and Groundwork's mission, our scope of work included:
Media relations leading up to and during the event
Press/Media Kit and FAQ Sheet
Press releases
Media alert
Newsletter for distribution to community members and businesses
Blog posts
Social media updates on Instagram, Facebook, and Twitter
Meetings and coordination with multiple parties leading up to the event
Talking points and agenda preparation
Placing event on local calendars
Coordinating and booking photographer
We're proud of the entire team, and the outcome! Here's to Cycle Southcrest 2015!
Learn more about WordPop's services here.