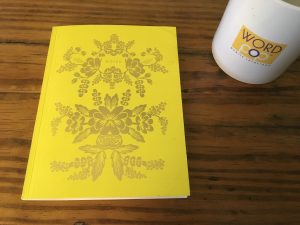 April and I attended the PRNews's Media Relations Conference in DC in December and the timing couldn't have been better as we were in full-steam-ahead planning mode for 2017. The speakers sent my brain gears into the spin cycle and I left with a fresh perspective on our clients and plans for the year ahead.
The conference was loaded with gems of inspiration, but I've streamlined to one top takeaway from each panel. Feel free to skip around to the panels you find most relevant and enjoy!
8:30 – Help a Reporter: Use Visual Content in Your Media Pitches and Press Releases
We have a whole "Pop Talk" white paper about visual communication, but here's one key point from Meagan Phelan, executive director of the science press package for the American Association for the Advancement of Science (AAAS): think in gifs. What kind of a gif could you create that would encapsulate your main point or demonstrate the product you're selling?
9:15 – Influencer Relations: Seek Out and Build Rapport with Future Brand Ambassadors
Director, Brand PR, Luxury & Lifestyle Brands for Hilton Worldwide John Walls recommended hiring an influencer the way you would a photographer, videographer or writer. Be "crystal clear" in your "ask". Ask for a specific number of tweets and hashtags, spell out your expectation for geotagging, etc. Then, because you've already done your homework and found the influencer to be a strong fit for your brand, give them creative breathing room.
10:45 – Be Your Brand's Broadcaster With Facebook Live and Periscope
EVP of BurrellesLuce Johna Burke shared the following wisdom cookie: "Facebook Live is like a party: well-planned but embracing spontaneity." Because it's live, something will stray from the plan, but the plan is essential, too. Make sure audio is audible, visuals don't show something weird sticking out of someone's head, and interviewees are prepped to be concise.
Noon – Luncheon and Keynote Presentation: How to Write for POTUS (or whoever your boss is) and Get the Right Kind of Laughs
Head Writer/Producer for Funny or Die, Washington D.C. and Former White House Speechwriter David Litt transitioned from writing for President Obama writing political humor for a top comedy brand. His PR takeaway is an oldie but goodie: identify your key demographics, then meet them on the platforms they're consuming. He illustrated this point with the Obamacare rollout and explained that that's President Obama ended up on Between Two Ferns with Zach Galifianakis. He was meeting the key (young) demographic that he wanted to sign up for health coverage on a platform they were already consuming (Funny Or Die).
1 – Media Pitching Clinic: Work in Teams and Have Your Pitch Evaluated by Journalists
An opportunity to have my work evaluated by top-tier media in front of PR peers – oh goodie! April covered this session in her blog, PR Practices to Keep and Ditch in 2017, but one key lesson is the concept of "altruism power" as stated by pitching expert Michael Smart of Michael Smart PR. First, write your pitch. Then edit, identifying "I" statements or your organization the focus of your sentences. Edit so that your sentences are focused on the recipient of the email and how your organization can provide value to them.
2:45 – How to Lead Your Organization's Social Media Messaging in a Crisis
You can't make someone on the opposite side of the spectrum agree with you, but you can persuade someone to move a degree closer to agreement. According to Eric Wohlschleger, Director of Media Relations for the American Petroleum Institute, the secret is to educate, engage and finally persuade by focusing in on the three yellow circles in the middle, the "aware" group (see diagram below). You aren't going to change a red to a green, but you can make a light yellow a bit darker.
3:45 – Prepare Your C-Suite for Media Interviews
Audience members asked several permutations of this question: "My CEO isn't convinced that he needs media training. What should I do?" Here are some tips for persuading a reluctant CEO to make time for media training:
Hire an external firm that trained a person your CEO admires
Set up a group training with a number of executives
Record your CEO in a mock interview and make them watch it.
If they have an interview coming up, speak with them about their goals for the interview. This may help disguise the fact that you're helping them prepare.
The learnings are still sinking in and I'm thankful for all the notes in my 2017 WordPop notebook (a WordPop tradition). If you want to learn more about any aspect of the day's presentations, don't hesitate to reach out to me, Julia@wordpoppr.com or April, april@wordpoppr.com!