Let's take those headshots to the next level! Showing up and showing your face as a representation of your brand is SO important to telling your brand story.
If you're anything like us, you've probably drooled over beautiful shots from your favorite brands. Or looked at influencers online and wondered "HOW do they have never-ending content?"
Making sure you have photo content that is aligned with your brand is absolutely within reach if you take the time to prepare! If you want to end up with a batch of photos that inspire connection with your audience, here are some of the steps we recommend:
Think through your goals for these photos and where you will be using them.
Are they for your website? Print materials? Social media? A specific campaign? List all the potential uses you can think of and expand that list to include poses or orientation specs that might come in handy. For example, if you are using these mostly for social media, do you need mostly vertical shots? Will you be adding text to them and need to leave generous amounts of space? Knowing this will guide you and your photographer!
Identify a mood for your photos.
Is your brand happy, lighthearted and excited? Serious and professional? Identifying this will help you choose poses and expressions that align with your branding or campaign.
Spend time organizing your vision board
This is our favorite part!! :) It's time to get pinning! Create a board and start pinning inspiration photos you like. Use the mood keywords you have already picked out. We like to start broad and pin lots of things we love. Then, comb through and eliminate photos that don't align with our goals for the shoot or the mood.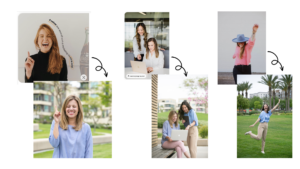 Pick a photographer that aligns with your style.
Do your research!! We recommend finding photographers through Instagram or Pinterest! Share your vision board with them to ensure your vision is aligned with their style. They will also likely be able to provide recommendations or guidance if you need to adjust your expectations. We worked with Cali Griebel (San Diego) for our latest branding photos and have also worked with Josh Premako (Greater Los Angeles), both of whom we recommend for branded headshots.
Choose a location that aligns with your branding.
Whether you go with an indoor or outdoor shoot, you have plenty of options. This is something you should definitely trust your photographer with! If they're familiar with the area you're in, chances are they will have some great suggestions for you. Go back to your vision board to see if there are additional prop or set elements you may want to consider. For our latest photos, we selected a location that had interesting architectural elements to appeal to our real estate industry clients, as well as soft foliage elements to appeal to other brands we work with.
Pick outfits and colors that align with your brand.
This may or may not be your excuse to go shopping! ;) For larger groups, it is absolutely worth the extra effort to coordinate so no one person is sticking out in group shots. We don't recommend matching exactly (i.e. everyone in jeans in a white top), but rather choosing a few colors for everyone to make their outfits from. That way your team looks cohesive but not identical! It's also helpful to wear your brand colors or colors that complement your brand colors. This will look SO good on your website and Instagram feed.
Collaborate with your photographer to decide on your top shot list.
Share your inspo board with your photographer and get their input on a realistic number of priority shots. Work together to narrow down the top photos you want to see.
Now it's time for you to get started. Get searching on Pinterest for inspo and fire up that vision board! We can't wait to see how your photos come out.
DM us on Instagram (@wordpoppr) if you have any questions or just want to chat about some of your ideas!